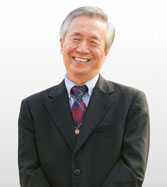 Intelligence Functions on the Basis of Humanism
Over a course of 65 years, CPC, as the most reliable and valuable business management consulting institute, has played a vital role in the process of growth, transformation and upgrading, and internationalization of many enterprises. We have been a facilitator and supporter for the enterprises to adopt innovation and to upgrade management capabilities, so as to build unique advantages and sustainable competitiveness. We have also cultivated countless talents for Taiwan's industries, who have made tremendous contribution to the economic development of Taiwan. I have always believed that CPC's service scope should not be limited to industries, but include the entire society. Humanism is the core of CPC's various management theories. The observation of human life and the imagination of future life styles will be an important direction in the development of CPC.
In this era full of unknowns and changes, we must maintain keen observation of the changes in the entire world and understand the possible impacts on the industries and the society of Taiwan. Then we can make effective strategic planning to enhance the connection of Taiwan's enterprises to the world in the pursuit of excellence. As CPC members, we should continuously upgrade and empower ourselves, uphold the core values of innovation, professionalism, accountability, lean and learning, so we all stick to our commitment to the enterprises for our common flourishment.